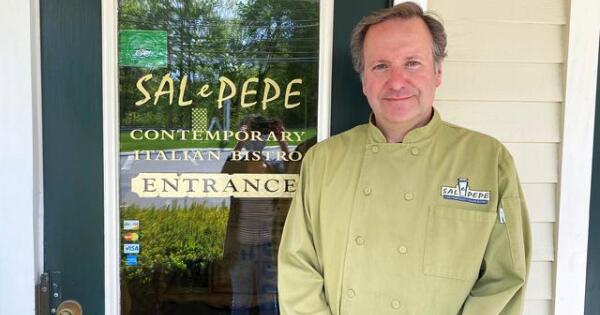 Contemporary Italian Bistro Sal E Pepe: A Place for Everyone
From the moment you enter Sal e Pepe and take a look around, the scene is set for a tasty good time: from the smiling hostess welcoming customers at the door, to the friendly vibe of the guests seated in one of four dining areas, including the bar.
To the right of the entrance is a separate dining room, also available for private parties. There, guests enjoyed birthday parties, bridal showers, wedding receptions, celebrations of life, and business meetings, among other special occasions.
The main dining area beckons with warm red and gold colored walls and table settings finished with glowing candles that create a warm and inviting ambiance.
Whether you are looking to enjoy a romantic dinner for two or a casual meal with friends and family, Sal e Pepe can meet all your needs. And there is no need to worry about food issues. The restaurant is flexible to accommodate guest requests as well as serving vegan and gluten-free meals.
You can also choose to dine alfresco on the terrace during the warmer months. Enjoy a refreshing meal under the tent surrounded by beautiful overflowing flower boxes.
The name Sal e Pepe is Italian for "salt and pepper", so owners Angelo and Renia Marini have added a bit of whimsy to your experience by presenting a different set of salt and pepper shakers at each table. Among Angelo and Renia's collection, collected during their various travels, are also those donated to them by patrons, thus enhancing the atmosphere of the neighborhood. What sets this restaurant apart from many others is that the owners are usually there, helping their staff and engaging with customers.
As Angelo says, the Sal e Pepe environment has a "come as you are" vibe where everyone can feel comfortable and have a pleasant experience. The "refined casual" atmosphere serves a variety of patrons, from those just arriving for the first time to the many regulars who feel like friends and family to each other and the staff. Angelo and Renia have fought to make Newtown a dining destination and support local sports teams and organizations. They are actively involved in the community they are proud to call home.
With so many loyal customers, Sal e Pepe created a loyalty program to reward loyal customers, which now has over 10,000 members. These customers enjoy special discounts for their birthdays and also receive 5% back for every $200 spent. Be sure to register!
Since 2014, Sal e Pepe fans and followers have helped the restaurant earn more Connecticut Magazine Readers' Choice Awards than any other restaurant, with 56. Most recently, in 2022, Sal e Pepe won four more awards with Best Overall Excellence in Fairfield County and Second Place Statewide, Best Desserts in Fairfield County and the best overall value in Fairfield County.
"I would like to take this opportunity to thank the Newtown community for their support throughout the pandemic," Angelo said.
A sample of the menu
Appetizers: Nine options are available on the dinner menu. One of the most popular is the Maine mussels, which come with a choice of Gorgonzola cream sauce or white wine sauce. Prices range from $6.95 to $13.95.
Soup: All soups are prepared fresh. Favorites include Italian wedding soup and Tuscan peasant soup; the latter has a chicken base with sweet Italian sausage, pasta, beans and vegetables.
Salads: Among the salads, a best seller is the Caesar. It includes homemade parmesan crackers (rather than croutons) and dressing. Prices range from $10.95 to $11.95.
Specials: Many customers only order from the specialty menu due to the constant variety. There are usually six to eight specialties, which usually include a stew, a fish, a steak, and a ravioli specialty.
Lunch: Lunch is served from Thursday to Saturday. Among the lunch options is a section called "Pastabilities," where any of Sal e Pepe's 14 pastas can be paired with any of its 11 sauces. The dish is served with a soup or a salad, all for $16.95.
Inputs: Appetizer prices range from $19.95 for baked eggplant parmigiana to $32.95 for filet mignon. A best seller is the parmesan tilapia served over green pea risotto, $24.95.
Pasta: There are a dozen pasta options on the dinner menu, with a customer favorite being the braised short rib ravioli made with a decadent sherry cream sauce with roasted red peppers and mushrooms. Prices range from $19.95 to $23.95.
desserts: The desserts are homemade. The Nutella mousse pie is the restaurant's signature dessert. It has an Oreo cookie crust, caramel, Heath Bar crunch, dark chocolate ganache filling and, of course, a Nutella mousse center. Other must-try desserts include key lime pie topped with fresh whipped cream, tiramisu, pecan and bourbon bread pudding, and a rotating list of gelato and sorbet.
Children's menu: All meals are $12.95, which includes a main course, a drink (a choice of soda, milk, or apple juice) and a "messy sundae."
Craft cocktails, wine and beer: Craft cocktails include Mule Thyme, Spicy Margarita, Basil Martini, Aperol Spritz, Espresso Martini, and Sal e Pepe's Limoncello Martini. Order from a selection of nearly 50 wines, some by the glass, as well as a variety of beers.
Sal e Pepe Contemporary Italian Bistro, at 97 South Main Street in Newtown, serves lunch Thursday through Saturday and dinner Tuesday through Sunday. Closed on Mondays. Delivery is available through Grubhub and DoorDash. Takeout is accepted by calling 203-426-0805. For more information, visit salepeperestaurant.com or facebook.com/salepeperestaurant.