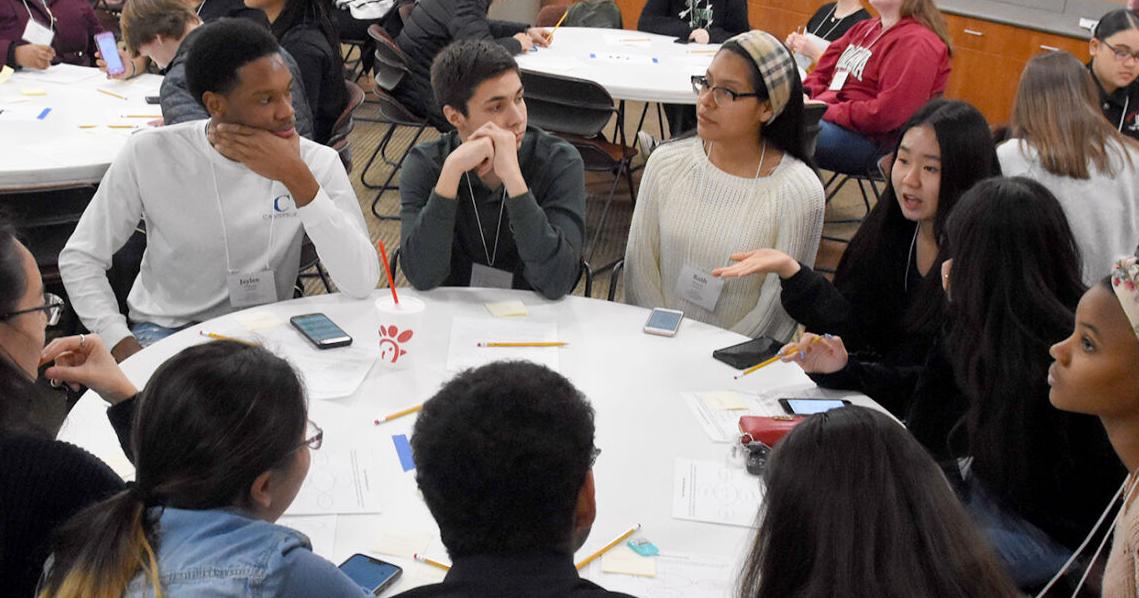 Diversity, Equity and Inclusion Essay Contest to Award $500 for First Place | Schools
Fort Wayne high school students have a chance to win up to $500 for raising their voices.
This voice would be expressed in a "Diversity, Equity and Inclusion: Why It Matters" essay contest sponsored by The Journal Gazette.
Ashley Sloboda, our Education Reporter, spearheads a data-driven project that explores discussions of diversity, equity and inclusion that have raised cultural and curriculum concerns, by particularly in K-12 districts that have become more diverse in recent years. The project will also address academic achievement and related issues.
As we speak to educators, school leaders and parents, we believe the project will also benefit from student voices. That's where our essay contest comes in.
We invite high school students in Fort Wayne to address, in 500-600 words, the importance of diversity, equity and inclusion. Essays should explain why they think it is important to feel a sense of belonging in the classroom and in extracurricular activities. They should also address what kind of efforts they see being made or could be made to ensure a culture where all students are welcomed, valued, and encouraged to succeed.
The deadline for emailing typewritten essays for judging is approximately one month. Money for the first, second and third place winners will be provided by The Journal Gazette through an Education Writers Association reporting grant program.
The first place winner will receive $500; the second place winner will receive $250; and the third place winner will receive $100.
Essay contest rules:
• Must be original work, submitted in English, with limited guidance from others. Information and quotations from other sources should be attributed accurately.
• Length is 500-600 words, typed.
• Content should address the need and importance of being valued and accepted in local schools, including classrooms and extracurricular activities. Students can express how they feel when they are not accepted and can also provide specific examples. Essays should also include examples and/or suggestions of how teachers, other staff, and student peers can truly embrace inclusion.
• Essay submission is limited to one per student and must be included in the email.
• Essays should be emailed to [email protected] by 5:00 p.m. on August 24, 2022, and the subject line of the email should be "DEI Essay".
The top of the inscriptions must include:
• The full legal name of the student submitting it.
• The student's grade level as of August 2022 and the school they attend.
All entries become the property of The Journal Gazette, which will publish the winning essays in print and online. Excerpts or full essays from other submissions may also be posted. A photo of the top winners will be published.
Essays will be judged by experienced writers and editors. Winners will be notified in October. Submissions that do not adhere to the stated guidelines will be considered ineligible.
Bluffton
Mike Murray• , a member of the Bluffton-Harrison Metropolitan School District Board of Trustees, was appointed to the Indiana School Boards Association Legislative Committee to help guide the development of the association's 2023 advocacy agenda. committee met on July 15 for a one-day meeting to identify and discuss annual legislative priorities and key statements. Their recommendations will be presented to the association's assembly of delegates for formal approval at the annual fall conference in October.
Concordia
Concordia Lutheran High School named Matthew Konow, a 1991 alumnus, as the new Director of Advancement. It will start on August 1.
EACS
Megan Crip• took over July 1 as Principal of Southwick Elementary School. She was most recently the vice principal of the school.
To agree
• Zimmer Biomet contributed $1.25 million to establish the Fellowship Education Improvement and Innovation Grant, which aims to incentivize fellowship programs to provide new and unique educational opportunities. Zimmer Biomet has partnered with the American Association of Hip and Knee Surgeons as the founding sponsor of the grant. Go to www.aahks.org/fellowship-grant-program for more information, including how to apply and deadlines.
Indiana Technology
• Fifteen Parkview Health executives completed the Indiana Tech Ledging Engagement and Action in Diversity executive certificate program. The Parkview team began the program in late March, with the final class session taking place at the university's Business Engagement Center on June 17. Students in the program take a total of six course sessions in order to obtain their certificate. It equips professionals with the skills to lead and transform an organization's culture, help managers and executives become more understanding, and lead and implement inclusive practices. Indiana Tech will begin the next session on September 15. Go to indianatech.edu/leadcertificate for more information.
Manchester
Olan Griffiths• of Fort Wayne was promoted to director of information technology services at the University of Manchester after working as acting director for two months.
Acknowledgement
Kiddie Academy Educational Child Care Recognized Amber Nunn• from Kiddie Academy of Southwest Fort Wayne as Teacher of the Year. The award was presented at the brand's annual conference in 2022 to an educator who has exceeded standard performance in all areas associated with classroom teaching as well as interactions with children, professional behavior and overall quality of the program.
Meeting
• The South Side High School Class of 1962 will hold its 60th reunion on August 20 at the History Center on Berry Street. Call Lane Grile Ross at 260-438-5710, Diane Fredrick McArdle at 260-402-6696 or Susie Hines Muncy at 260-615-0051 before August 5 to register.
Saint Francis
VSLifford Buttram• is the new University of Saint Francis Division Director for the Keith Busse School of Business and Entrepreneurial Leadership. He also continues his role as a Graduate Business Instructor, Graduate Business Instructor Coordinator, and Director of the Masters of Business Administration program.
Saint François will organize blue and white days from 9 a.m. to 12:45 p.m. on Thursday and August 11. Incoming high school and junior high school students and their families are invited to campus for an admissions overview, tour, faculty introduction, and lunch. Contact the USF Admissions Office at 260-399-8000 or email [email protected] for more information.•
• Saint Francis Adjunct Faculty Member Nicholas Messina• received the award for best conceptual paper for "Generation Y and the motivation to lead: is a transformational leader an enabler or an obstacle?" written by Tracy H. Porter, Michele L. Heath, Nicholas Messina, and Scott C. Bible, at the 59th Annual Meeting of the Eastern Academy of Management.
trine
Trine University promoted three staff members and restructured its College of Graduate and Professional Studies, which houses TrineOnline, to accommodate the growth of online courses and programs. Brittni Heiden is now Executive Director of Academic Operations for TrineOnline; Joshua Pranger is the Senior Academic Director; and Anuja Shukla is director of orientation and student success.
Students and parents who have a favorite teacher can nominate the individual to Teacher Honor Roll. Send applications to The Journal Gazette, 600 W. Main St., Fort Wayne, IN 46802; fax 461-8893 or email [email protected]
To submit an item, send a typed release from the school or organization to Education notebook, The Journal Gazette, 600 W. Main St., Fort Wayne, IN 46802; fax 461-8893 or email [email protected] at least two weeks before the desired publication date.