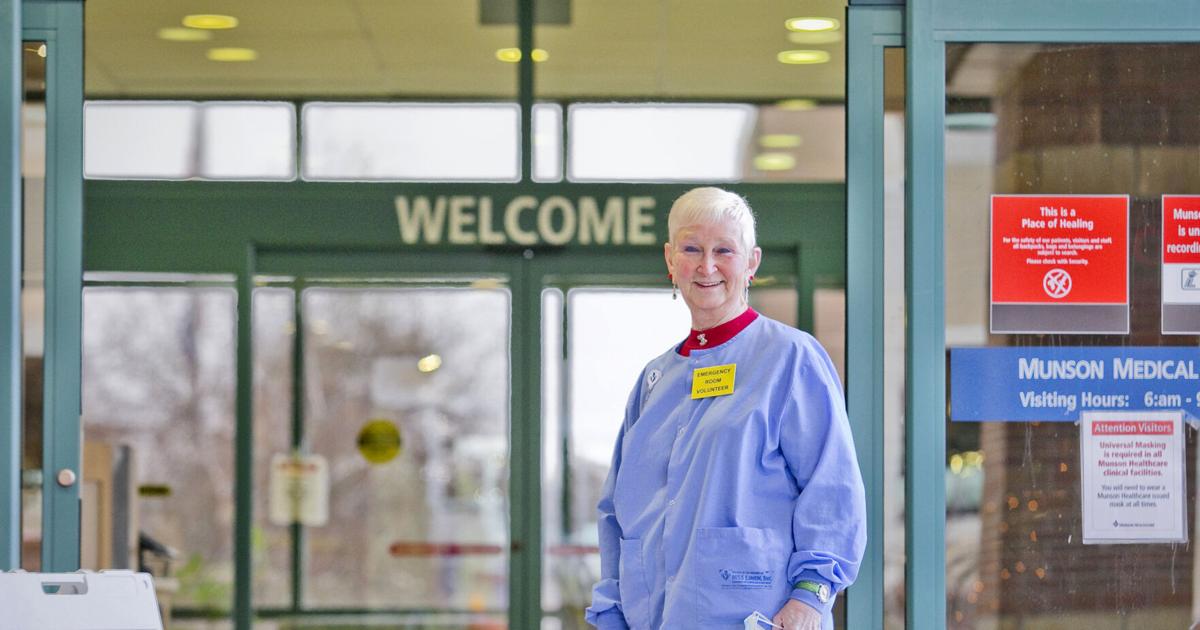 "I can't think of a better place" | News
TRAVERSE CITY – In an institution as large as Munson Medical Center, seemingly small tasks can have a huge impact.
Take the simple act of escorting patients around the hospital, such as escorting a patient released from the hospital to the main entrance. Teresa Stachnik, who manages the hospital's volunteers, said that without anyone getting involved, discharging patients requires removing clinical staff from the floor.
This is just one example of how people helping in the hospital get involved in a variety of tasks that don't require certification or licensure, Stachnik said. Their contributions add up in a way that makes a big difference and defies measurement in dollars and cents.
"They are essential to the way we take care of each other and the patients who arrive," she said. "They're extra hands, they're trained, they're compassionate. They relieve the staff so that the staff can do the clinical elements of what they need to do. "
Betty Plow is one of them, and she's no stranger to the place. When not volunteering in the once-a-week emergency room, she is a transcriber in the lab, having previously worked on switchboard, radiology transcription and the same task in medical records.
In the emergency room, Plow takes patients to their rooms and puts them in their beds, refills blanket warmers, makes ice packs and basically does whatever staff ask, she said. In the hall, she offers people blankets and gives children toys to help them forget the reason for their visit.
"I like working in a hospital atmosphere, and it felt like a place where there was a lot going on," she said.
This isn't the first time Plow has volunteered for Munson, she said. She has worked there for several years, having started at Munson Manor, the foster home that accommodates the families of patients. This job involves answering the phone and checking in guests on arrival or departure.
Plow isn't a stranger to the neighborhood either. Prior to working for Munson, she worked for the state of Michigan, most notably at Traverse City State Hospital for 13 years before it closed.
The COVID-19 pandemic has brought about big changes at the hospital, including how Plow interacts with people in the emergency room, she said.
The waiting room is often full and people get angry while waiting to be seen.
"You kind of have to explain to them why they're not moving and why they're just sitting there," she said. "It's not because they don't want to help them, it's because there is no place to put them, there is no place to take them."
This includes explaining the basic ED setup: Patients are seen in order of acuity, not order of arrival, first served, Plow said.
Patient privacy laws prevent them from going into detail on why someone is recalled before someone else.
The pandemic has depleted the ranks of volunteers at Munson Medical Center, Stachnik said. Before COVID, there were around 350 volunteers.
She brought them back little by little, but some chose not to come back while others were unwilling to jump through the required hoops or in some cases couldn't.
Even before the pandemic, volunteers needed a tuberculosis test, a flu shot and a background check. Now they need that and proof of COVID-19 vaccination.
"The only volunteers we have currently returning are those who are essential to the clinical staff," she said. "It means the emergency department, front line ambassadors, cancer center volunteers and Munson Manor. "
Stachnik said she is working to bring back patient escorts who can offload patients for at least a shift to take the strain off the clinical staff currently on duty. But she still isn't recruiting new volunteers, and the image and processes of hospital volunteers will ever return to "Regular."
Nonetheless, Plow said she found the experience "very, very interesting" and would recommend it to anyone. She hopes to have more opportunities to volunteer when she retires after turning 80 in about a year and a half. Until then, she is happy to help with emergencies.
"You help people," she says. "I can't think of a better place to go to volunteer to help people than a hospital. "