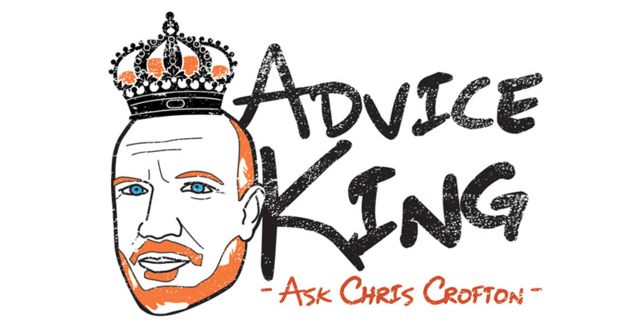 King Tips: Where's the best place to listen to live music in Nashville? | King Tips
Comedian, musician, host of Chris Crofton's Advice King Podcast and former Nashvillian Chris Crofton asked the Stage for an advice column, so we gave it one. Crowning himself the "king of advice", Crofton will share his hard-earned wisdom with anyone who seeks it. Follow Crofton on Facebook and Twitterand to submit a question to the Advice King, email bestofbread[at]gmail[dot]com or publisher[at]nashvillescene[dot]com.
---
Dear king of advice,
I'm going to be in Nashville for my boyfriend's wedding, and I was wondering if you guys had any tips on where to listen to the best live music. We don't want to go where the tourists go. I like all kinds of music, as long as it's good.
Thanks,
—Denver Chip
Uhhh. Hmmm. Nashville isn't really a music city anymore, Chip. It's more of a "hotel town". Or a "hot chicken that's not really hot because tourists complain on Yelp" town. Or a, uh, "tax shelter."
It's still called "Music City" in all the brochures, but it's become less a reality than a talk of a real estate agent.
In 2022 in Nashville, there are probably more rock climbing gyms than independent music venues. More wood-fired pizzerias. No more manicure-pedi joints. There are more leaflets taped to windshields offering money for the houses of the poor than there are halls, banjos and guitars combined.
Maybe Nashville should be called "Murals Referencing the Music That Used to Be Made Here City".
Ten years ago, when "Music City" was more of a reality than a realtor talk, there were a lot more places, and a lot more great music. Some of them were bought by economic consortia outside the city. These consortia always make vague promises about "the intention to honor the cultural heritage of the site". The promises are intentionally vague, so they are not legally binding. Translated, "preserving the cultural heritage of the site" almost always means that they keep the old sign. The legendary music hall is transformed into a crappy, expensive hotel decorated with taxidermy and airplane propellers – but they keep the sign.
Sometimes they leave it in front, sometimes they hang it above the sushi bar. It becomes a nostalgic 'nod' to the music that once performed there – as if good music was a thing of the past, something past cultures had time for, but we didn't. Not us, the phone people. We have passed the feeling. And the lyrics? Who has time to listen to them? Just give me a shot of computer-generated spa-disco in the background to accompany my incessant Instagram post. And a mural, and an old sign. My Uber is here!
One of the places I would have recommended is Mercy Lounge, Chip. It has three places inside. It closes at the end of May, so you might be able to catch one of the last shows. The whole complex was bought by New York-based "Thor Equities" – that's what they're really called, I'm not kidding – and a guy named Zach Liff. Zach bought out Thor's stake, and he owns it all now. And he says he's "excited about his future and handling his character". That means Zach's gonna keep the sign.
I would have recommended Exit/In. This venue is no longer booking shows after Thanksgiving this year. The Exit/In property was purchased by Chicago-based AJ Capital Partners last year. The longtime owners of Exit/In raised more than $200,000 to sweeten an offer to buy AJ's property — much of it from Nashville musicians, including me. But in the end, the capital group won. Mom and Dad can't compete with "capital groups". Capital groups must be regulated.
Exit/In is a HISTORICAL place. It is not replaceable. As part of a public relations campaign, AJ Capital requested a historical Metro overlay on the Exit/In site. Sounds good, right? Check the fine print. The protections go no further. They'll be able to keep the bare minimum of what made the place unique, and that probably won't include the people who ran it. And I bet it will be include Live Nation. They will keep the sign.
CURIOSITY: During a dispute over Wedgewood-Houston (another neighborhood where they own property), AJ Capital CEO Ben Weprin tried to settle things during a Zoom call from a private jet! Typical Nashville, Music City super musical behavior right there.
Here's an idea, Chip: Speaking of Live Nation, while you're in Music City, why not get a glimpse of our happy musical future? Visit Live Nation's brand new spooky gigantic office in a building called the Nashville Warehouse Co. They've placed the giant guitar sign from the old Nashville Sounds stadium in the parking lot. No live music or baseball, ironically. Lots of tech bros in tiny suits browsing Zillow, I'm sure. Probably a climbing hall. Definitely a retina scan.
I hate to be such a disappointment, but unless we get serious about taxing the rich, there won't be any more music venues. The last thing money-obsessed people want is to allow the creation of new songs like Creedence Clearwater Revival's "Fortunate Son" or Public Enemy's "Bring the Noise."
They want good music to be a thing of the past — it's bad for business.
Places to visit in Nashville: Exit/In (for now), The End, Springwater Supper Club, Mercy Lounge (until end of May), Robert's Western World, The East Room, The 5 Spot, DRKMTTR, The Basement, The Basement East, Eastside Bowl, Dee's Country Cocktail Lounge.