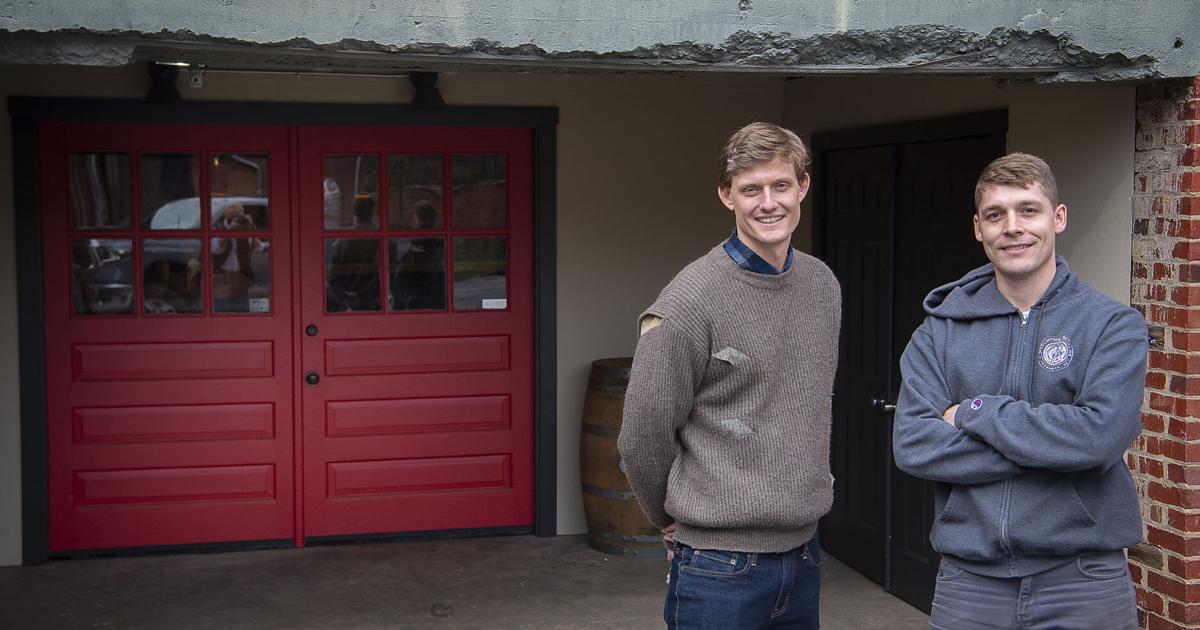 McClintock's Back Bar is Frederick's new spot for high-end cocktails | Food
While craft beers and hard seltzers have taken the drinking world by storm in recent years, sometimes you just want a simple old-fashioned cocktail — maybe even a real old-fashioned one.
If you're craving simple old-world cocktails with a light twist, Back Bar, McClintock Distilling's new venture, might be just what you're looking for.
McClintock's Back Bar is hidden behind a pair of unassuming yet evocative bright red doors at 35 S. Carroll St., just a few doors down from the main entrance to McClintock Distilling in the heart of downtown Frederick. The doors don't have any signs above them, but those who head inside will find themselves in a cozy bar specializing in drinks that showcase McClintock's spirit. According to Braeden Bumpers, the company's co-founder and chief distiller, the bar's secretive sentiment is a big part of the problem.
"We really wanted to focus on product quality," Bumpers said. "I love having him as this kind of hidden gem here, and we'll continue to be that way. We haven't really done any publicity, just word of mouth.
"People go to the distillery because that's where we always want people to start, to learn more about us and the spirits, and then they can come here and have a drink," he said. .
McClintock Distilling just celebrated its fifth anniversary in December. Bumpers said that since the distillery opened, he and his business partner Tyler Hegameyer have served spirits with a focus on "where we get our raw materials from," with many of those ingredients coming directly from farmers. local.
"We pride ourselves on making everything from scratch, from grain milling, fermentation, distillation, barrel aging; we're not buying somebody else's whiskey or anything like that," Bumpers said. "We make it ourselves."
The Back Bar had its soft open in December, officially held its grand opening in recent weeks, and encouraged patrons to stop by for a premium cocktail and perhaps order a bite to eat through Options Virtual Eatery, who delivers directly to the bar.
Bumpers said the Back Bar experience is a bit different than what you might have had if you had visited the distillery before. While a distillery tour at McClintock has always focused on spirits without any sort of dilution, the Back Bar shows those spirits in cocktails for which customers might already be using those spirits at home.
"The idea [for the Back Bar] was to provide an opportunity to showcase our spirits," Bumpers said. "If you look at our gins, how many people drink pure gin? It's hard for someone who comes home and drinks a gin and tonic every day, tries our gin and compares apples to apples.
"We pride ourselves on versatility," Bumpers said. "So in that way we're able to show that you can use that spirit in those different ways. So it's less of a bar and more of a showcase.
And to showcase these spirits, you need the right cocktail. That's where Kaitlyn Pettit, CEO of McClintock, comes in. Bumpers said Pettit is a big part of what makes the Back Bar special because she's the one who designed the drinks.
According to Pettit, most of these drinks are firmly rooted in cocktail traditions. "Almost everything comes from a base of a classic cocktail…so it was more or less me taking something that was doable for customers and kind of putting our turn on it," Pettit said.
That the drinks are "achievable" is actually an important part of Back Bar's drink design: they're drinks you can make at home, Pettit said.
"I wanted these cocktails to use ingredients that they could buy locally or even at the grocery store," Pettit said.
One of her favorite Back Bar drinks is the Spicy Spiers Margarita, which changes the margarita formula from the start: it uses McClintock's Maryland Heritage White Whiskey instead of a tequila.
"We use our white whiskey, which to me is a kind of alcohol that's strong enough to work like a tequila," she said. "It uses a hickory smoked salt that's sourced from The Spice & Tea Exchange on East Patrick, so it has this really hearty, spicy yet smoky flavor that I think works really well with what we're looking for here."
The drink is topped off with sliced ​​jalapenos and a slice of lime to bring out the flavors even more.
A few other slight tweaks to the drinks can help make them even more accessible to a wider audience. The bar's Chai Pear Gin Fizz, for example, substitutes egg whites for aquafaba for its thickening agent. Aquafaba, a liquid made from chickpeas, can be used as a vegan substitute for egg whites in a variety of recipes, including mixed drinks.
Twists on classic cocktails aren't the only thing different, though: McClintock had to make a few changes to focus on cocktails. Bumpers said McClintock had to distill spirits they did not initially have on hand; you can't make a negroni or a Manhattan without vermouth, for example. McClintock's new sweet vermouth is an important ingredient for some of these classic cocktails, but Bumpers said its rich, slightly sweet flavor is good enough to enjoy on its own.
The Back Bar is open from 4 p.m. to 10 p.m. Wednesday to Friday and from noon to 10 p.m. Saturday and Sunday. Bumpers said the bar is working on plans to start hosting events, such as quiz nights and small acoustic music performances, but that will take some time to set up.
Until then, however, the Back Bar will be a place to relax with a drink – and maybe even learn more about what went into that drink.
Follow Patrick Kernan on Twitter: @PatKernan