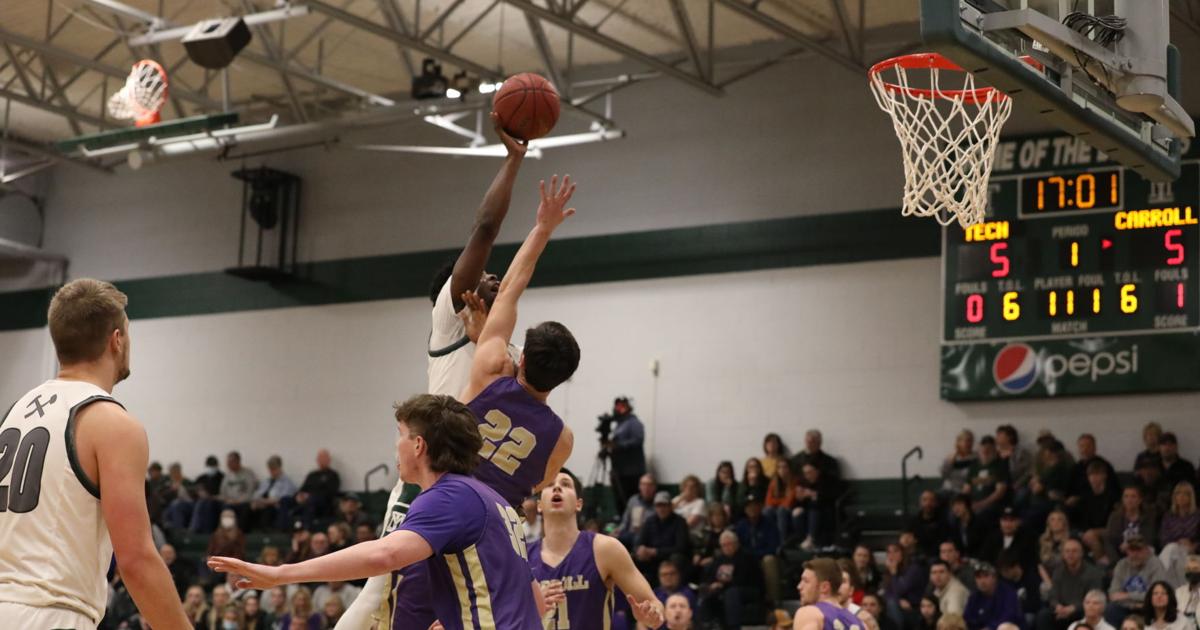 Montana Tech eliminates Carroll's men from first place; Saints women earn 16th consecutive place against Orediggers | Carroll College
BUTTE – There's a new men's team at the top of the Frontier Conference standings. Montana Tech handled Carroll 73-58 on Saturday afternoon, a victory that propels the Orediggers to 7-1 in the league.
"We knew what was at stake with both of us losing, ours being against them," said sophomore tech student Caleb Bellach. "We wanted to get this one back, especially at home. It was a good one to get, it puts us at the top of the conference standings. We just have to continue from here.
It's only halfway through the conference schedule, but Saturday's win was Tech's 18th of the season, sets a five-game winning streak and ties the season streak between two rivals by one game. each.
Sindou Diallo has once again distinguished himself for Tech. The Orediggers top scorer had a team-high 19 points, four rebounds and five assists in 28 minutes. He and Bellach fired up the HPER Complex crowd with rocking dunks and helped Tech keep the intensity level up throughout.
"I thought our effort was excellent early on," said technical head coach Adam Hiatt. "We played extremely hard. It was a great message coming. The only way to take Carroll down, no matter where you play, you have to play harder than them… I felt like we matched their efforts tonight. We were able to do an adequate job on the boards. We gave up a few offensive rebounds, but we didn't give up a lot of second chance points and that was a big difference for us.
Tech was plus one in the rebound battle, but Carroll held a plus five advantage on the offensive boards. Carroll finished plus-seven second-chance points but only had 11, while the Orediggers matched the Saints' 28 points in the paint and scored 23 from the bench.
Tech led by 11 points at halftime. A push from Carroll threatened that, but a four-point play from Keeley Bake and a hat-trick from Christian Jones secured the Orediggers' biggest first-half lead took them into the break.
"Give them credit. Defensively, they really made us compose," Saints head coach Kurt Paulson said. "I just didn't get a lot of good shots and 58 points won't be enough. Their defense definitely suffocated us. When we had them open – 12.5% ​​of three and 36% [shooting] is not good enough. They shut us down offensively and we couldn't get any transition buckets either.
Aside from elder Jovan Sljivancanin, Carroll hasn't found much offense. Sljivancanin started 4-for-4 from the field, including two 3-pointers. He had 12 of Carroll's 13 points to start the contest and scored 19 of the Saints' 30 points in the first half.
Sljivancanin, who along with fellow senior Shamrock Campbell was looking for his first win over Tech in Butte, finished with 26 points on 9-for-20 shooting. He grabbed 13 rebounds, posting his 17th double-double of the season.
"I don't think we played, overall, a very good game," Sljivancanin said. "Low field goal percentage, low 3-point percentage, low assists as well. Montana Tech always plays well at home, especially against us. They were hitting a lot of punches. It was their night, it wasn't our night. I tried to do my best."
Take Sljivancanin out of the mix and Carroll scored just 13 field goals on Saturday. His two 3-pointers were all managed by the Saints and Carroll shot just 36.1% from the field. Jonny Hillman scored eight and Andrew Cook added seven, but no other Saint scored more than four points.
"He's a very good talent… We knew he would be focused for this game and he would have a big game," Hiatt said of Sljivancanin. "We just wanted him to have to work for his points. I felt like we were wearing him down a bit throughout the game because we were putting so much pressure on him. We did a pretty decent job knocking out some of the other guys, because we felt like if some of the other guys got into it, we wouldn't be able to win this game.
Tech shot 56.5% (13 for 23) from the field in the first half and finished at 46.8%. The Orediggers buried seven 3-pointers and made 10 more free throws than Carroll. 10 different Orediggers burst into the scoring column in the win, including Bake, who had nine points. Jones added seven in nine minutes on the court.
Bellach's aforementioned dunk gave Tech an 11-point lead at 17:10 of the second half. One possession later, Derrius Collins knocked down a 3-pointer, putting Tech up 14 and sailing the Orediggers more or less to victory.
"I feel like we're starting to play our best basketball… The biggest thing I keep saying with this group is that they sacrifice themselves," Hiatt said. "We have guys in our team who could score over 20 goals per game. Sindou could score 20+ per game, Caleb Bellach could score 20+ per game, but they all sacrifice for the good of the team. You can see that the results serve us really well at this point.
Tech improved to 10-1 at home this season with the win. A season after winning 13 games, the Orediggers sit 18-5 and atop the league standings with seven games remaining in the regular season. The journey doesn't get any easier for Tech, however, as he puts Providence on the road Thursday before returning home to face Montana State Northern.
"There's a lot of basketball left to play," Hiatt said. "Right now it feels good for this weekend, but a brand new season starts next week and we have two games left. We are in a good position at this point, but at the Frontier Conference things can change in a weekend.
Carroll Women win 16th straight against Montana Tech
It's been nearly five calendar years since the Saints last lost to Tech. Behind 26 points from senior Dani Wagner, that fact remained on Saturday afternoon with a 64-57 victory for Carroll.
Wagner, who scored 11 of his team's 19 points in the fourth quarter, hit another career milestone. With a 3-pointer in the second half, Wagner became the second all-time leading scorer in the history of Carroll's women's basketball program. She passed Emili Woody with her 1,563rd career point and finished the contest 22 points shy of 1,600 in her Saints tenure.
"It's awesome," Wagner said of the accomplishment. "It really is a blessing. I play in a very successful team that has a lot of experience. I give all this credit to my teammates, my coaches and my family for all the time and dedication. There are more important steps to take. We have a championship that we have to finish.
Just over two weeks before getting blown up in Helena, Tech kept things interesting on Saturday. Carroll led by eight points at halftime, and when it looked like the Saints were going to run away in the third quarter, the Orediggers responded with a 12-0 to make it a two-point game.
Tech shot better than 52 percent from the field in the loss and turned Carroll over 13 times, including six times in the first quarter.
"[Friday] we had a team meeting before the movie and we just talked about some things that we really wanted to accomplish as a team," head coach Carly Sanon said. "I thought today about our communication on the pitch, our energy, our fight as a unit – we played very well as a team. Carroll is a very good team. Dani Wagner has a ton of experience and she had a big game tonight when they needed points.
Up seven midway through the fourth quarter, Wagner drilled a 3-pointer to put his team in double figures. The shot was one of four Wagner made in the period as she helped Carroll keep pace with Tech.
"She was coming to the edge and she was finishing so well, so we just kept going with her," Saints head coach Rachelle Sayers said. "Sometimes you have to pick and choose how you're going to score and we've had great success with her. Her teammates understood what worked and we were able to put the ball in a good position for her to score.
Sayers said she was really happy with the way her bench played on Saturday. Jaidyn Lyman scored eight points and had two interceptions in 14 minutes. Emma Madsen had a steal and a block in eight minutes and Maddie Geritz added three points, three rebounds and three assists for 21 points off the bench.
Lyman, who played solid defense against Tech's guards in the win, buried three jumpers during her time on the court and jumped on just about every stray ball she could.
"I've been on [Jaidyn] about being more aggressive and giving us those little jumpers… There are times when we can't get it to those scorers and she can score… Tonight I thought she was picking and picking when she was going go out there and take that jump shot," Sayers said. "To give us eight points off the bench, two steals – she had a really big game for us."
Christine Denny scored nine points and added six rebounds and two assists in the victory. Kamden Hilborn and Jamie Pickens each contributed seven points.
Brooke Heggie led the way for Tech, scoring 18 points on 8-for-10 shooting. Tavia Rooney added 14 points, 10 rebounds, six assists and two steals for the Orediggers.
"I think we did a good job of getting the ball to our post players," Sanon said. "Brooke Heggie had a big night for us and Tavia Rooney with another double-double. Mollie [Peoples] hit a couple threes when they entered their zone. We just competed better and played as a team much better than when we played at Carroll.
For Wagner, her five 3-pointers on Saturday pushed her beyond the 240 made for her career. That's pretty impressive for a player who came to Carroll without a lot of 3-point shooting and had to develop that aspect of her game. That, Sayers says, is what helped Wagner find such success: his desire to continue to improve.
This desire to keep improving has allowed Wagner to take a major step in his career that will be difficult for future generations of Saints players to challenge.
"No, I definitely didn't," Wagner said when asked if she ever thought she'd end up scoring nearly 1,600 points in Carroll. "It's pretty amazing. I came here just to play in a team that had the potential to do great things. Over the years, just the amount of time and work I put in during the offseason, I think has helped me get to where I am right now.