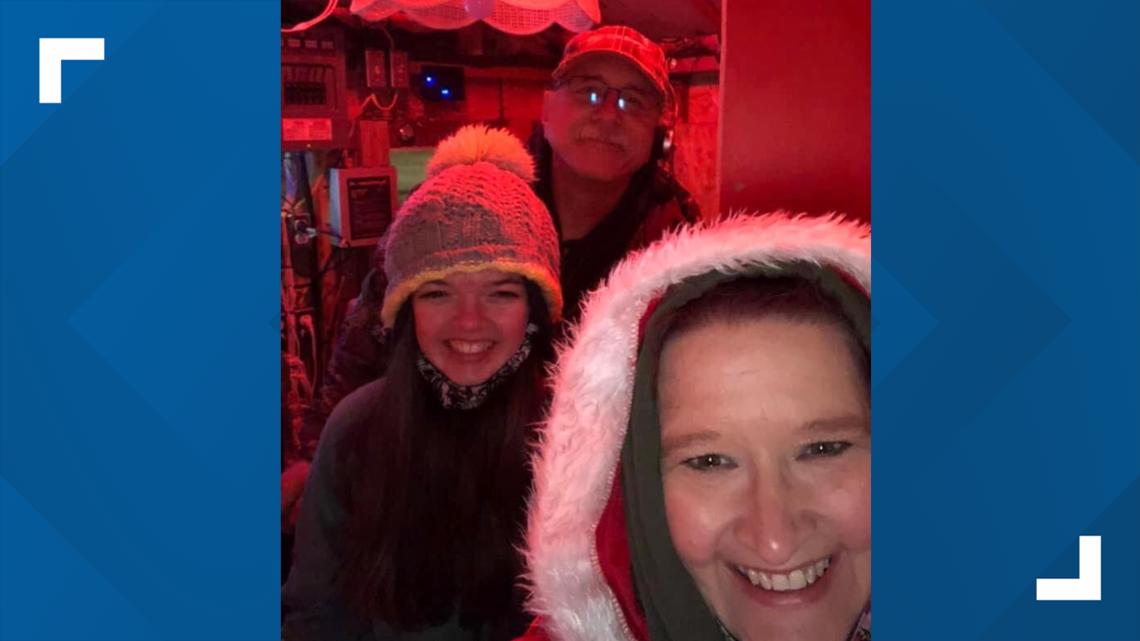 Point Place Santa Claus and Mrs. Claus
Santa Claus and Mrs. Claus are in town! The couple will travel around town on a specially designed holiday float for the next two weeks.
TOLEDO, Ohio – You better watch out, you better not cry, you better not sulk and here's why: Santa and Mrs. Claus are in town!
WTOL 11 has learned that Point Place Mr. and Mrs. Claus, along with a few assistants, will be touring the city in a specially designed holiday float for the next two weeks until Christmas Day, handing out goodies to the good kids of the region.
Since Point Place Santa and Mrs. Claus live in town, they use aliases to blend in.
RELATED: Live the Holiday Spirit at Mancy's Steakhouse
"I'm just glad I was asked," said Hughes. "This is very fun."
The couple spread the joy of Christmas to the children of Point Place and loved it.
"Hear the 'Here is Santa Claus! He really is there! "It brings me so much joy to myself and my husband doing this," Mentel said.
Tami and her husband Jeffery Mentel have been hosting Christmas floats since 2005. Tami said that each year Jeffery finds a way to make the float bigger and bigger. This year, Jeffery has put in more than 100 hours of work.
The 55-foot, two-part trailer contains exactly 19,000 Christmas lights, nine inflatables and a 12-foot tall Ferris wheel.
All of this work is done in Mentel's pockets. Tami Mentel said the couple have no regrets.
"It's just a way for us to give back to our community because our community is such a wonderful community," Mentel explained.
Children who see Pointe Place Père Noël and Madame Noël walking up and down the city will see them handing out candy canes and plush toys.
RELATED: It's Almost Christmas, So Where's All the Snow?
"Their excitement when I finally turn around and see them in a window and waving at them, they get even more excited and nod even more," said Hughes. "I had a lot of screaming for myself and really good hugs too. It was a lot of fun."
Last year, the Mentels were unable to invite Santa Claus to join them due to COVID. But to keep the Christmas spirit alive, they decided to tell the kids that Ms. Claus was taking over that year and that Mr. Claus was back at the North Pole to make sure all the elves were doing well.
"This year, Santa Claus and Mrs. Noel are teaming up to bring Christmas cheer," Mentel said.
To make sure everyone got good gifts, WTOL 11 asked for tips on how to keep the smut out of our lows this year and it was pretty straightforward.
"Listen to your adults, stay in school, stay out of trouble," Hughes said. "You should have some pretty cool stuff in your stockings."
"Come and experience the joy with us and get that Christmas spark back if you lost it," Mentel added.
The Point Place / Shoreland Holiday Float has a Santa Claus tracker app to help everyone find where Santa Claus and Mrs. Claus will be. From Thursday to Sunday, the tank will be out and around 6 p.m. to 9 p.m.
The tank will also be released from December 21 to 24.
These holiday float events are free to the public. The Mentels pay for all toys and candy out of pocket. To help alleviate some of the financial pressure, there is a fundraising page on the float's Facebook.