the LEAD VIP room is a place to rediscover the value of vintage clothing
vintage garments preserved as enduring entities
The TEKI Design VIP room, created for LEAD, a retail company located in Hiroshima, Japan, is a space where shoppers can rediscover the meaning of vintage clothing. In a renewal of the typical cluttered vintage store, architect Tatsuya Nishinaga instead creates a minimal, almost exhibit-like storefront to display vintage clothing in a way that clearly highlights its value. The concept is a renewal of the typical vintage clothing store, where a wide variety of products are often hung haphazardly and tightly together with no space between them, making it difficult to sift through items and truly appreciate them. Stores tend to give clothes the image of being cheap and easy to buy, devaluing them somewhat. TEKI Design aims to reimpose a sense of value with the new method of preserving and enhancing used vintage objects in a way that they are presented in a more interesting and accessible way, almost like works of art in a museum.
all images courtesy of Tatsuya Nishinaga
teki design organizes a museum-like vintage clothing store
For the concept of the LEAD VIP room, Tatsuya Nishinaga positions "used" clothing as "vintage" clothing – something that is an enduring entity to be valued, enjoyed and preserved. Vintage items, as they are carefully passed down from generation to generation, have gained social value due to their historical past and rarity. As such, the organized display system places garments evenly along the walls of the sleek room, illuminated by directional accent lights and spotlights. The showcase guides an unobstructed route for people as they browse, allowing them to enjoy all the garments in a relaxed manner, at a glance and without the need to touch.
Jackets float delicately on high hangers and jeans are displayed spaciously along minimal shelving in a grid-like pattern. All objects are positioned with equal space between them, clearly in the direct line of sight of viewers, so they each have their own dominating presence, like works of art in a museum. 'Clothing will be treated as a more durable entity by being handed down with care, not just worn out. I hope it will be such a place where we can rediscover the meaning of worth," explain Japanese architect and interior designer.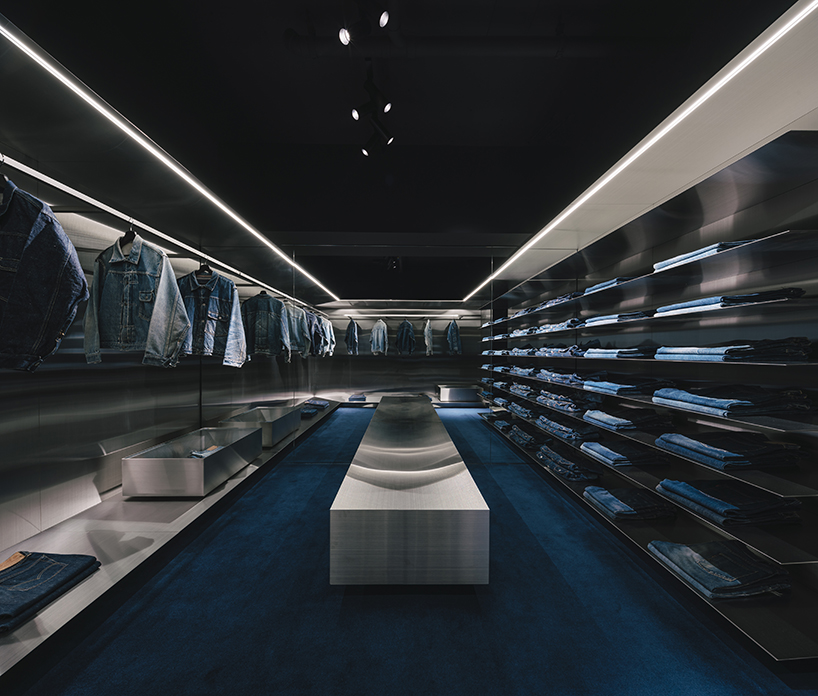 VIP LEAD room showcase emphasizes the value of vintage clothing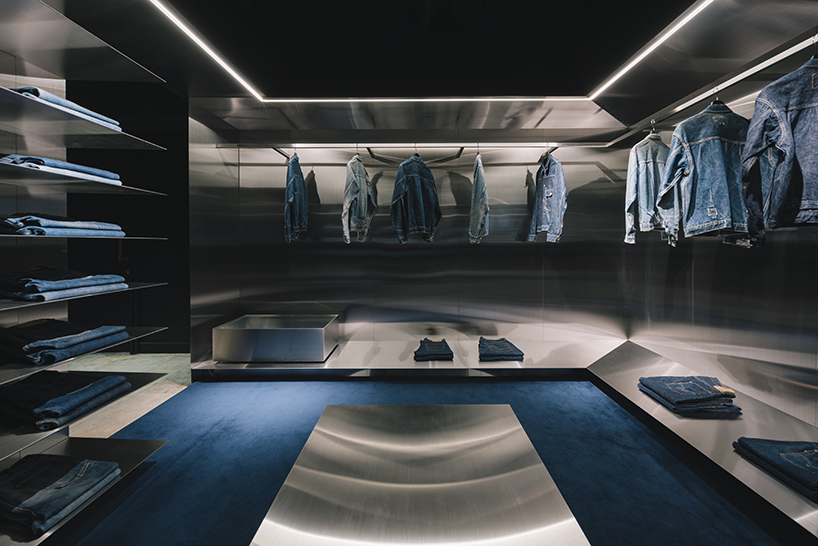 VIP LEAD room showcase emphasizes the value of vintage clothing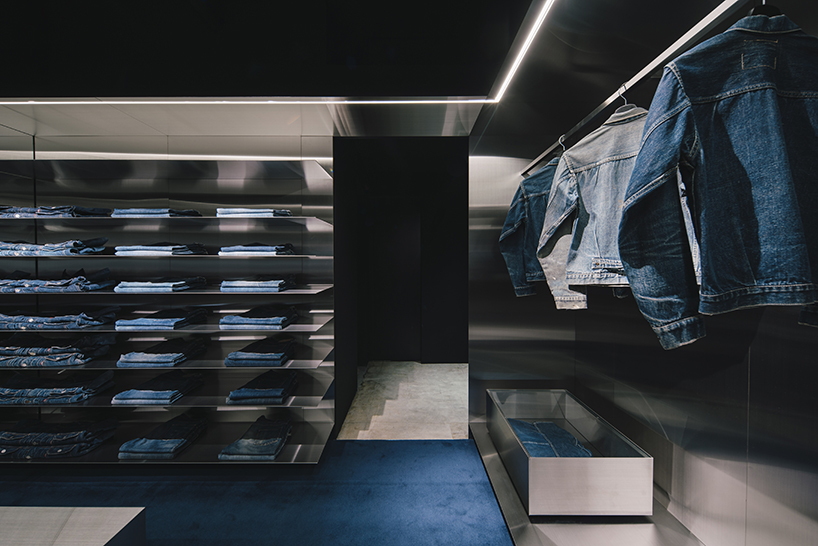 items are displayed spaciously in the minimal room