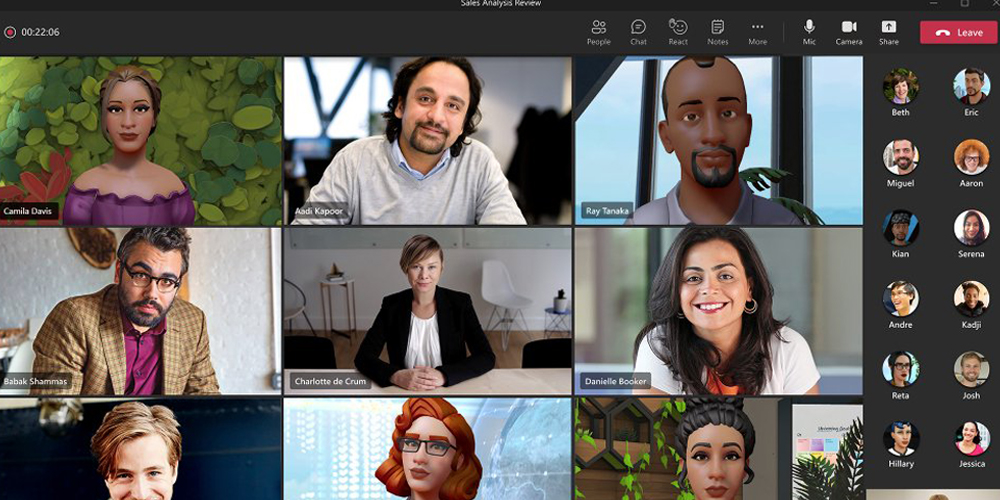 The place of an integrator in the emerging trend of virtual reality collaboration
For the past 18 months, the world has lived primarily on video conferencing platforms as the COVID-19 pandemic forced organizations to adopt a remote work strategy that relied heavily on services like Zoom, Microsoft Teams, Webex and others.
Cloud-based video conferencing and collaboration services were relatively easy to deploy and scale across an organization, which helped many businesses avoid the negative effects of the pandemic and social distancing guidelines while continuing their job.
What quickly set in, however, was a growing weariness of these platforms and long back-to-back meetings confined to a computer screen.
However, with general optimism towards the trajectory of the pandemic, companies are now beginning to return to the office in a hybrid approach that will continue to rely heavily on these technologies.
Software vendors have been rapidly innovating during the pandemic in response to their customers' needs and a growing level of video fatigue by adding new video interfaces and layouts designed to make virtual meetings more engaging.
This includes recent announcements from Microsoft, Cisco and Meta (formerly Facebook) integrating a virtual world into widely used collaboration platforms.
Software giants are pushing the boundaries of VR meeting



These soon-to-be-released offerings revolve around what's widely referred to as the "metaverse," a virtual world where organizations can meet, collaborate, and just hang out via personalized avatars.
Cisco calls its solution the Webex Hologram. A new service that combines the Webex platform with immersive 3D holograms; it leverages augmented reality headsets to bridge the gaps between virtual and in-person collaboration, delivering photorealistic, real-time holographic experiences to enhance meetings.
Cisco says Webex Hologram users can also share physical and digital content. For example, an automaker can use the platform to interact with a physical prototype of a vehicle to review and provide feedback on the design. Renders and other digital content may also be shared on the platform.
Microsoft, meanwhile, announced Mesh for Microsoft Teams, a new solution that integrates the mixed reality capabilities of Microsoft Mesh with its collaboration platform.
The company is pitching it as an extension of its video fatigue solutions like Ensemble Mode and Presenter Mode, but into the metaverse via mixed reality headsets.
According to Microsoft, Mesh for Teams presents a "gateway to the metaverse – a persistent digital world that is inhabited by digital twins of people, places, and things."
"Think of the metaverse as a new version — or a new vision — of the internet, a version where people come together to communicate, collaborate and share with a personal virtual presence on any device," the company said in a statement. Press release.
To start using Mesh for Teams, users will only need to join a standard Teams meeting as a custom avatar of themselves instead of a static image or video. Organizations can also create immersive spaces — metaverses — within Teams, the company says.
Users can then take their avatars to these spaces to "mix and mingle, collaborate on projects, and experience those chance encounters that spark innovation."
Related: Cisco Announces AR Collaboration Platform, Devices and AI Features at WebexOne
Meta, which recently changed its name from Facebook, also recently announced Horizon Workrooms, a virtual reality collaboration experience that brings people together to work in the same virtual room.
According to the company, via an Occulus Quest 2 headset, the solution offers mixed reality desktop and keyboard tracking, hand tracking, remote streaming, video conferencing integration, spatial audio, and new Occulus avatars. .
VR integrations into platforms that most AV integrators are familiar with seem like an added value to any unified communication and collaboration offering. However, many consider the technology to be in its infancy, leaving third-party vendors such as integrators to wait for new developments and a clear business case.
VR meetings

always

a buzzword

… for the moment
If you've attended a professional AV conference or trade show, you've probably been told about the opportunities that arise in the virtual reality or augmented reality space.
Including InfoComm 2021 and The NSCA Pivot to Profit events organized in September, during which several panels of experts discussed virtual reality, including one on emerging technologies.
Harry Aller, CTO of Innovative Lighting, told Pivot to Profit that a lot of money is being invested in virtual reality and augmented reality, citing Workplace Horizons specifically.
"I don't know yet how integrators can really embrace this, but keep an eye on it," says Aller.
And, at the Almo Professional A/V E4 Experience in Dallas, ARHT Media's hologram technology was showcased.
This implies that the remote individual occupies a studio space with an area of ​​approximately six feet– wide green screen. The hologram then appears on a display surface on the other side, blending into the background environment. The person appearing via a hologram is able to speak, move and interact with the audience.
According to ARHT Media, its technology is different from the holograms of Michael Jackson and Tupac Shakur seen at concerts because the content is streamed live and in real time, with virtually zero latency.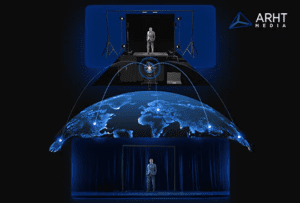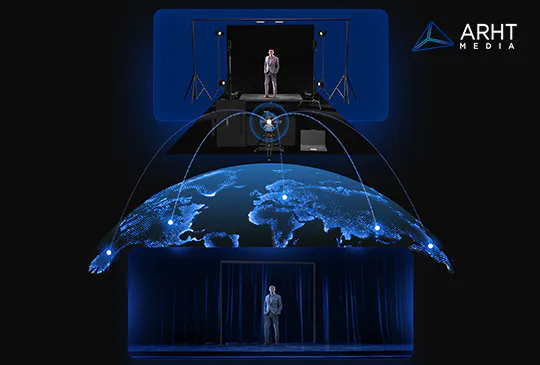 Thus, integrators could market it as an alternative to business travel, allowing a senior executive to make a lasting impression at a conference or event by appearing holographically, rather than as a face on Zoom or Teams. Other applications include higher education and high-end retail, for example flagship stores.
However, there haven't been many viable use cases for virtual reality in conferencing environments so far. This may soon change as integrators may expand their partnerships with collaboration software vendors and offer solutions to augment these software innovations.
However, how integrators can do this is still unclear, as these software vendors have provided little guidance to integration partners on how they can add value to these platforms.
In emails to Business integrator, Both Microsoft and Cisco spokespersons said they wanted feedback from end users first before onboarding service providers such as integrators.
John Bailey, senior vice president of technology and innovation at global integration leader and top service provider partner of Microsoft and Cisco, AVI-SP, said the technology is still in its infancy. beginnings, but that customers are more and more curious.
"It's a topic that a lot of clients like to talk about," says Bailey.
The idea of ​​a virtual reality meeting, Bailey says, is still largely a concept. Instead, Bailey says the most currently applicable place for this kind of technology is where VR/AR is already in use.
Instead of adding VR to collaboration, current use cases are adding collaboration to VR use cases.
"So these are usually things that you need visualization for, like design, product management, product creation, industrial design, or things that we as a team want to look at and evaluate. , manipulate or co-design something in a shared space," says Bailey. .
In these use cases, a three-dimensional visualization already exists, and then the avatar concept is added. However, Bailey says some users struggle with the concept.
"Using Avatar for a lot of people feels like playing a video game," he says. "It is difficult for them to understand [it]. "
The technology still needs to mature



The concept of an augmented reality environment in which a physical room full of people wearing glasses can see visual representations of distant participants in empty chairs is exciting, but largely unsuccessful.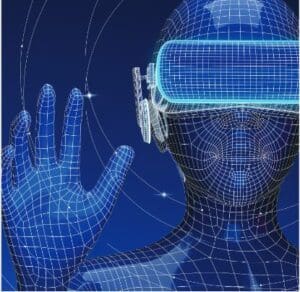 According to Bailey, the most viable use cases have been in educational settings and the medical field as well as other industries that require hands-on experiences and tutoring.
For example, a surgeon looking at the operating table or a technician looking at parts of a machine through goggles or special glasses can show remote participants what they are looking at.
While it's impractical for some business environments to have a room full of people wearing glasses just to see representations of distant colleagues in the room, there's an undeniable cutting-edge appeal to technology, Bailey says.
"It looks so amazing that someone could practically be there without being there," Bailey says. "I think that excites people."
The demand is there, but the technology has yet to mature enough for the widespread adoption that many predict. Above all, VR glasses should be less intrusive and easier to wear, says Bailey.
But like the software giants who offer this technology, integrators must listen to their customers who use these solutions to find their place in this conceptual virtual reality.
"We'll figure out where it fits in and how it will be most valuable to customers, with customers helping us do that," Bailey says.